Lehigh County, PA
The Family Law Attorney
Who Knows
Divorce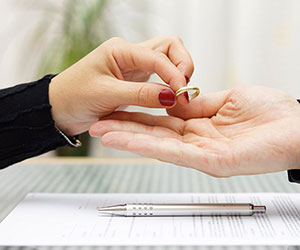 First and foremost, if your lawyer is cheap, you should wonder why. Do not use a 'divorce service" you see advertised on the internet or in the newspaper because you believe that saving money on a quick "cheap" divorce is more important right now. Lopiano-Reilly Law Offices deals on a weekly basis with the horror stories that result from that limited line of thinking. It often costs more to try to fix an issue later. Sometimes, clients who try to represent themselves, in the first instance, miss or waive important legal issues. You need to know and protect your rights and paying an experienced lawyer to advise you is always in your best interests.
What Is Marital Property?
One of the biggest challenges in divorce can be distinguishing between marital property and separate property. This is particularly true with high asset divorces and divorces that involve business entities. Any assets acquired during the marriage, including gifts between spouses and any growth on non-marital property, fall generally within the definition of marital property in Pennsylvania. Gifts from third parties and inheritances, to the extent that they can be proven, are not marital property but they may affect support and divorce percentages, as well.
The title to assets is only partly relevant and only in limited circumstances. If you purchased a home on your own as investment property while you were married, even if it is in your name, it is marital property. If you purchased a home prior to getting married, but then you and your spouse made payments on it and it increased in value during your marriage, a portion of the home is marital property. There are countless ways in which money and accounts can get commingled during a marriage. Not surprisingly, these unique entanglements can make it difficult to differentiate between what is separate property and what is marital property. What about purchases made with gifts or inheritances? What about debts incurred before, during or after the marriage? At Lopiano-Reilly Law Offices, we are well-prepared to handle complex property division issues involving commingled assets and transactions.
How Is Marital Property Divided?
In Pennsylvania, marital property is divided based on the concept of equitable distribution. This is not necessarily a 50/50 division, but a fair division based on a variety of factors. At Lopiano-Reilly Law Offices, we know how important it is for you to receive a fair and equitable share in property division. A fair distribution does not necessarily mean an equal division of assets and debts, however. Make sure you have a lawyer who will protect your interests through all settlement negotiations and in any ensuing litigation.
In Pennsylvania, bad conduct will have no effect on property division. If your spouse is guilty of bad conduct or if you have been accused of bad conduct, you need a lawyer who can explain this area of the law to you. Everything in the practice of family law is interrelated. Property division can offset other issues in the divorce settlement. For example, additional property in a settlement could mean less (or no) alimony and this may or may not be in your best interests.
You and your spouse may want to resolve everything amicably and use one lawyer. This is not ethical. A lawyer can not represent both you and your spouse. If you have been asked to sign a postnuptial or marital settlement agreement without your own separate legal representation, DO NOT SIGN IT. It is important to know your rights and potential obligations for signing such a contract. Let Lopiano-Reilly Law Offices guide you correctly.
How Are Retirement Accounts Handled?
Aside from a home, very often retirement accounts form the largest assets in a divorce case. Retirement accounts are not divided like other property as they are not like most assets. Division of this type of property is not like dividing a bank account, in which the money can be simply taken out of the account and placed in the other spouse's account. IRAs need to be rolled over. 401(k)s and defined benefit pension plans and other types of retirement accounts are often divided using a specific tool called a Qualified Domestic Relations Order (QDRO). We are familiar with all the necessary tools to deal with retirement accounts appropriately.
If you are in the process of a divorce and need a second opinion or if you want to talk to an attorney who focuses on this area of the law and can give you much needed information, contact Lopiano-Reilly Law Offices now.
Request a Consultation