Lehigh County, PA
The Family Law Attorney
Who Knows
Estate Administration
Many people want to plan their estate to avoid Probate because they have heard horror stories of the probate process. Proper Estate Planning will help that fear.

What is Probate? Probate is the court supervised legal process that includes determining the validity of your Will, gathering your assets, paying your debts, taxes, and the expenses of administration, and then distributing the remaining assets to those persons entitled to them.

Without a doubt, things can proceed in an orderly and legal fashion if you have a Will at the time of your death. The person you name as the executor of your Will becomes the central figure in the probate proceedings. Your executor will carry out the many duties specified by law, and the instructions you leave in your Will provide the guidelines for the probate process. At Lopiano-Reilly Law Offices, we represent executors and assist them to complete their duties and administer the estate. Probate is nothing to fear.

Upon your death, the person you have nominated to be your executor will submit your Will to the appropriate court along with a petition to the court that will include information about you, your death and your Will. The petition will request that the court accept the Will as valid and to appoint the executor designated in the Will.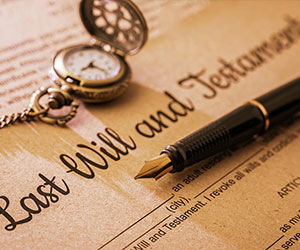 Heirs, beneficiaries, and creditors must be notified of the admission of the Will and the opening of the estate, after which they have a limited amount of time to challenge the Will and/or submit claims to the estate. Usually the estate will then obtain a federal identification number for tax purposes because it is considered a separate taxpayer. The executor will also open a bank account in the name of the estate in which to deposit income and receipts of the estate, and out of which to pay expenses, and make distributions to the beneficiaries. The initial proceedings will also be when the court takes into consideration any challenges to the Will.
The executor must review all records to determine all of the assets of your estate, and physically take custody of all assets which are subject to probate. After taking custody, the executor must determine the fair market value of the estate property, pay any debts still outstanding, resolve any claims by creditors, and pay the costs of all expenses incurred in administering the estate. The executor may have to sell some of the estate's assets to pay debts and expenses. The executor is also responsible for preparing and filing death tax returns and your final income tax return.

Contrary to popular belief, "probate" does not have to be stressful or overly expensive. Lopiano-Reilly Law Offices is experienced in estate administration and has handled litigation arising from estates that have heirs and others fighting over last wishes, assets and debts. Lopiano-Reilly Law Offices will help you through this difficult time. Contact us now.
Request a Consultation